Please note: All guests are giving up their free time to attend and in many cases are coming from great distances so this list is naturally subject to change.
SPECIAL GUESTS
TAKASHI IIZUKA (SONIC TEAM)

Multi-time Producer and Director – including both Sonic Adventure titles, Sonic Colours and the upcoming Sonic Generations, Game Designer on titles like Sonic 3 & Knuckles and the original NiGHTS into Dreams. Not forgetting being the current head of Sonic Team itself. Takashi Iizuka will be flying in from Japan especially to join us.
YUJI NAKA (PROPE, FORMERLY SONIC TEAM)

Considered by many to be the "Father of Sonic", Naka-san began as programmer for the original Sonic the Hedgehog Mega Drive game. During his tenure as Sonic Team head, he led development of almost every title and created other iconic franchises such as NiGHTS and Billy Hatcher. Despite now leading PROPE and no longer involved with his creation, Sonic still has a very special place in his heart.
JUN SENOUE (SONIC TEAM)

We welcome back the legendary Jun Senoue, music director for many of Sonic Team's games and composer games such as Sonic 3 & Knuckles, Sonic Adventure, Sonic Adventure 2, Sonic Heroes and Sonic 4: Episode 1. This year, Senoue-san is behind the incredible score to Sonic Generations and he has been kind enough to take time out of his insanely busy schedule to enjoy SOS with fans of his work.
JULIEN-K

We're delighted to announce Julien-K will be appearing as part of the amazing line up at this year's Summer of Sonic convention! Julien-K defined the sound of Team Dark with their fan-favourite track "This Machine†for Sonic Heroes, and returned a few years later to perform the song "Waking Up†which was featured on the soundtrack to 2005′s Shadow the Hedgehog title.
TRACY YARDLEY (ARCHIE COMICS)

Tracy has been involved in the world of Sonic since 2005 and is probably one of only a handful of people outside of SEGA to be able to say their association has been constant durning this time. He's worked on all three of the recent comic series from Archie Comics and is the main artist for the series.
IAN FLYNN (ARCHIE COMICS)

Ian has been the head writer over at Archie Comics since Sonic the Hedgehog comic issue #160, and has rapidly gained rapport amongst fans of all ages. Ian has graciously squeezed us into his hectic convention calendar to attend SoS this year!
NIGEL KITCHING (FLEETWAY COMICS)

We welcome back Nigel, who appeared at the first two SOS conventions back in 2008 and 2009. Sonic the Comic was the perfect way for UK fans of the blue blur to get their dose of hedgehog antics. While initial issues played it safe with the license, Kitching was responsible for spicing up the comic's plot and giving the book its own unique flavour.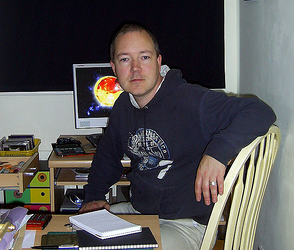 NIGEL DOBBYN (FLEETWAY COMICS)
For the third year running, Nigel Dobbyn joins us at Summer Of Sonic. Sonic The Comic and Knuckles artist/writer, Nigel will once again be offering tips and interacting with fans. No doubt he'll have some original STC art pieces you may be able to buy as well.
?????????? ?????? ??????????
(INTER-PLANETARY/DIMENSIONAL TIME-TRAVELING DUDE WITH 'TUDE)
Undeterminable blur of colour, powers past… something or the other. Little to no confusion as to what they are able to accomplish… something or the other.
FEATURED STAGE SHOWCASE ACTS
"ZONIC" – ZIGGY NEWMAN
Zonic (or Ziggy in the real world) came to our attention via the SOS Facebook group and her lyricalisations of classic SEGA Megadrive games tracks – specifically Sonic. Apart from these she also makes her own brand of ambient, electronica based pop and dance with influences from everything from Lady GaGa to Depeche Mode.
"ROAREYE BLACK" – RORY JOSCELYNE
Have you ever wondered what a Motobug would do if it was the star of the show? Or thought about Caterkiller's fledgling rap career? Of course not. Luckily for you Roareye Black has.
Svend's younger brother and co-presenter of SEGASonic Radio's The Sonic Hour is known for his quick wit and creativity and is in his private time a keen actor having studied at Performing Arts at the University of Essex. Roareye is the host of the Stage Showcase section and will be splitting up the performances with a host of hedgehog related one-liners in a sonic-tastic stand-up routine.
Joining our showcase acts on stage is our youngest act, ShadowGirl! Kati will be performing her original Shadow the Hedgehog-themed rocking anthems including "I Don't Take Orders". Check out her other hard-hitting tunes on her facebook and youtube pages! Chaos…CONTROL!
Club Sonic – Live DJ + Special Surprise…
DJ Mark Hawley spins some tracks from Sonic the Hedgehog's extensive 20-year musical history – live and on stage! You'll hear your favourite songs and level themes as you've never heard them before. Be sure to get involved by singing, dancing and WISP RAVING – if you do, something very very awesome may just happen at the very end of the day…
FEATURED FANARTISTS
"
TRiPPY" – LYNNE TRIPLETT, STUDIO iMAGNi
NiGHTS fangirl? Yes. SEGA otaku? Yes. Exceptionally talented artist? You bet. TRiPPY is also head of Studio iMAGNi with partner DiGi Valentine which is developing the outstanding Engelbaum series. She'll be selling prints of her awesome SEGA and non-SEGA inspired artwork.
DeviantArt (Astrima) | Studio Imagni | DeviantArt (Imagni)
"SYAMING-LI" – LI SHANGHANOO
By his own confession Li is a "Sonic freak, SEGA addict, MangaPunk, fanartist, gamer" and "loves stars too much!" A highly talented artist, he is also the driving force behind the Summer Of Sonic DeviantArt group.
Li has come into more prominence in recent months following his highly praised Sonic Colours inspired piece "HYBRiD COLOURS". High quality prints of which will be available to buy at SOS 11 as well as other items which many of you will have already seen on his DA blog or via his popular livestream events.

DeviantArt (Syaming-Li) | Livestream
"TAVINGTON" – DONNA M EVANS
Donna's influences span a range of cult art sources including Tim Burton and other videogame franchises. Tavington's talents don't just stop at conjouring up incredible images however, as her DeviantArt will tell you, with a plethora of creations from soft toy plushes to figurines and photography on display.
Donna will be joining us on the day with a whole table of wares for you to marvel at, and in some cases for you to take home! You will have to be fast though – the Megadrive controller pillows will be popular!
DeviantArt (Tavington) | Portfolio